The Clearly Perfect Slotted Trimmer is an efficient tool that makes it easy to accurately square up half square triangles. Tool allows you to trim all four sides of half square triangles and dog ears without having to rotate your fabric.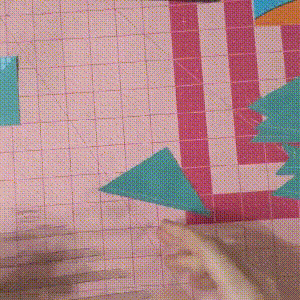 Dashed lines are for aligning your unpressed half square triangle seams to then easily trim all four sides. Trimmer can also be used to square up hour glass blocks, strip piecing of half square triangles, strip tube method block construction and fussy cutting.
Features:
Allows for trimming of up to eleven sizes from 1.5" to 6.5"
Conveniently two trimmers will allow for full 1" and .5" sizes to be trimmed
Includes two triangle trimmers
Size: 4.875" x 6.5"
Each package will have a paper version of the instructions
How To Use Slotted Trimmers
Make a Half Square Triangle as normal. Start by sewing two squares right sides together, on both sides of a drawn, diagonal line.

Cut ON the drawn line. At this point, do NOT open your fabric or press seams.
Take your Slotted Trimmer Ruler. Whatever size your Half Square Triangle should be (unfinished), find that size on your ruler.
Line up the dotted line that has your unfinished size listed above it ON your seam. You can see that my unfinished HST will be 2 ½". So I lined the 2 ½" dotted line ON my seam.

Trim your HST.

This is when the SLOTTED part of the rulers come into play. Using your rotary cutter, cut the dog ears off your HST. Use the slots that are right BELOW your marked line. (For mine it would be the lots right below the 2 ½" dotted line).


Now that your HST is trimmed to the right size and the dog ears are trimmed off, you can open your HST and press your seams to one side. Use and iron to press your HST. Notice that the Half Square Triangle measures EXACTLY 2 ½". See how easy it is to make perfect Half Square Triangles with Slotted Trimmers. Perfection!

Two Different Slotted Trimmers
You will notice that there are two sets of rulers that come in a package. One ruler is for Half Square Triangles that are FULL inches. The other ruler is for HALF inch increments. I can not think of a better or easier way to make Half Square Triangles than using these Slotted Trimmer rulers.
Set of two acrylic templates.
Trim up to 11 sizes: 1 1/2" to 6 1/2"
Great for 5" Squares
2. In the pop-up window, click on the location on the image below.
3. Choose your bank country.
4. Now you can use credit cards to pay.
5.Last Tip:
Do you want to use this credit card to create a PayPal account?
According to your needs, choose yes or no.

6.Successful payment.