Fun tricks and unexpectedly simple designs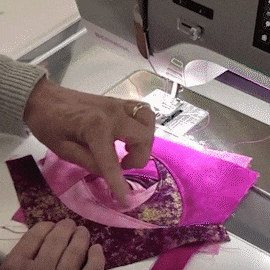 Learn to use free-form curve cuts and simple topstitching to create a lovely rose-shaped quilt block. Use them in both traditional and innovative design layouts.
This different is eye pleasingly beautiful, four colors aye, painting, without paint is glorious. So many variations to try. Making this rose will be fantastically rewarding.
It may seem complicated, but the technique of sewing this block is simple and can be learned by even very new quilters. The method is called stitching and flipping, and the reason will become clear after you try it.
This quilt is based on the Amish "Sun and Shade" pattern layout. simply do more Blocks to add dimension and/or change the color palette to match your decor.
Size:
Small(5in)

Medium(8in)

Large(10in)

Make this square rose rotating block. 5-inch templates need to be cut into 5-inch squares, 8-inch templates need to be cut into 8-inch squares, and 10-inch templates need to be cut into 10-inch squares. A detailed tutorial will be sent with the template after purchase!
2. In the pop-up window, click on the location on the image below.
3. Choose your bank country.
4. Now you can use credit cards to pay.
5.Last Tip:
Do you want to use this credit card to create a PayPal account?
According to your needs, choose yes or no.

6.Successful payment.